Chinese Brush Painting – Pandas
Po-man Chan Liu
Pandas
Original living place: He Long Mountain, Sichuan province, China
Food: Bamboo plant
Adult weight: 115 kg
Adult size: 1.6 to 1.8 m
A giant panda is a large, fuzzy, black and white mammal. Pandas belong to the same family as bears, but are very rare.
A female panda gives birth to one or two tiny white cubs at a time. They are born in caves or holes in trees. They look more like mice than pandas, and at first they are helpless so their mother cradles them to keep them safe.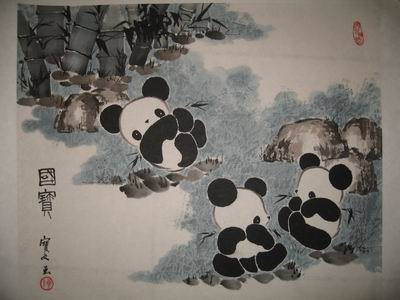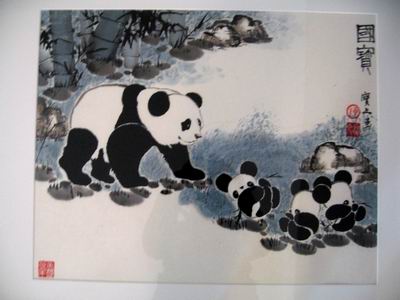 Workshop Objectives
Learn how to draw pandas
Learn how to draw bamboo
Learn how to draw and paint rocks
Material
Chinese paper (Xuen Zi)
Black ink
Paint colours – blue, brown, white
Chinese brushes
Pencil
Eraser
Procedure
Using a photo, a picture, or a drawing as a guide, draw the panda on Chinese paper (Xuen Zi).
Draw the panda with black ink. Use white paint to draw the eyeballs.
Draw the rocks with black ink. Colour the rocks using black ink and brown paint.
Draw the bamboo with black ink and blue paint. Add the leaves using black ink.
Dye the background with black ink and blue paint.
Write the title.
Stamp the picture with the red seal(s).